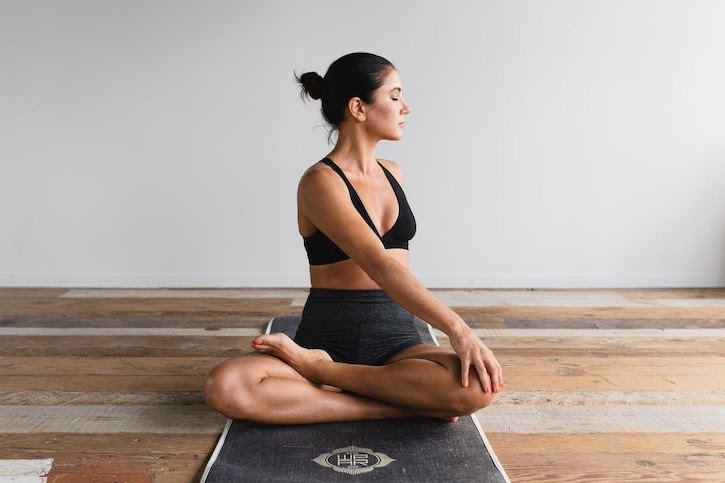 A fresh start, a new page, a blank slate—these are the many implications of renewal that a new year brings. The first of the year has long been a popular time for recalibrating priorities and embarking on new beginnings, and health and fitness New Year's resolutions are the perfect way to focus your reinvigorated energy.
If you're looking to prioritize health and fitness this year, January 1 is the perfect time to change things up. However, along with the age-old swell of optimism comes the struggle to stick to your New Year's resolution. How do you craft a resolution and make sure you stick to it?
Whether you're striving for a healthier diet or a stronger body, here are 10 tips for making—and keeping—fitness New Year's resolutions.
1. Pick One
It can be a little overwhelming to contemplate the habits—good and bad—that you've accumulated over the past year. As you start considering New Year's resolutions, it may be tempting to do a complete overhaul of your lifestyle. However, it's much more practical to work on one resolution at a time.
The American Psychological Association recommends changing one behavior at a time to improve your success rate. Setting too many goals at once can lead to burnout and depleted motivation, so focus your efforts on one primary goal and don't feel pressure to reevaluate every habit.
2. Be Mindful of Your Motivation
New Year goal setting can be challenging. How do you know which habit should you focus on? It may be difficult to pick the best goals and a resolution you're able to work on.
When brainstorming, consider your intrinsic motivation. Ask yourself:
What are you most motivated to change about your life?
Why are you motivated to change?
What is fueling your motivation?
How will you feel once you've accomplished your goal?
Reflecting on the motivating feelings behind your goal is an excellent way to choose a resolution you will be passionate about throughout the new year and beyond. Get started by listening to motivational podcasts and reading up on common wellness goals.
3. Don't Be Unrealistic
When it comes to New Years' health resolutions, set goals that are realistic and achievable. Avoid the flawed but common resolutions below.
Losing an Excessive Amount of Weight
Weight loss is the focus of the most popular New Year's resolutions, but it's difficult for many to achieve. One of the leading causes of a failed weight loss resolution is setting unrealistic expectations.
Instead of resolving to lose a set number of pounds over a set number of months, focus on individual habits that can help you lose weight the right way over time.
Choosing an Impossible Diet 
If you resolve to lose weight by changing your diet, consider committing to small changes over time rather than doing an ambitious overhaul. Not shocking your system is how you can stick to a New Year's resolution involving weight loss.
For example: Focus on cutting out one thing at a time—like soda or candy—rather than removing all sugar at once. It will be easier to stay on track and not ditch your diet in hangry frustration.
Setting Unattainable Fitness Goals
Whether you're just starting your fitness journey or you're a seasoned veteran, it can be tempting to set overly lofty fitness goals. Trying to live up to resolutions like these can lead to burnout or injury. Instead, focus on setting realistic fitness goals—such as working out from home—that you can track and celebrate.
4. Be Specific
When picking a New Year's resolution, take the time to choose a specific goal. A broad or abstract goal—such as "be happier" or "be healthier"—could set you up for eventual disappointment.
Instead, set specific and tangible resolutions. Some effective resolutions include:
Making healthier food choices
Working out twice or thrice a week
Incorporating meditation into your daily routine
Trying a virtual retreat this year
Incorporating self-care into your schedule
5. Start Small
A great way to approach a New Year's resolution is to take small steps.
For example: If you're planning on taking up hiking this year, resolve to explore new trails rather than vowing to scale a mountain. You can even start by simply promising to hike a certain number of times per month.
6. Make a Plan
While it may seem obvious, it's essential to create an action plan for your new resolution. Successful action plans include:
Goal-setting
Creating a list of actions
Setting a timeline
Tracking your progress
Many people find that having a written plan in a journal or other designated space helps elevate their motivation.
7. Write a Schedule
Especially if you are setting health and fitness goals, writing a schedule is a great way to stay on track. For example: If your goal is to work out consistently, creating a weekly workout schedule will put you on the path to long-term success.
Writing a schedule ahead of each week is an excellent way to check in with your progress and make any adjustments. If you're feeling burnt out, plan a lighter week or schedule a break. Feeling bored? Switch things up. Having a dynamic schedule will help keep you focused and healthy.
8. Find a Buddy
Consider finding a buddy to work on New Year's resolutions together. Touching base with an accountability partner can help keep you in check when setting goals, keep you on track when you're feeling low on motivation, and keep you inspired when you're feeling defeated.
9. Plan a Reset
Health and fitness goals are popular New Year's resolutions for a reason. Prioritizing your well-being can lead to a fuller and happier life. However, it's easy to waver when it comes to sticking to goals like these.
Consider planning a fitness reset—either to kick off your resolutions or replenish your motivation throughout the year. MyLifeWell can help you plan your next wellness retreat, find the perfect detox plan, or connect you with a fresh on-demand program.
10. Don't Give up
The most important thing to remember when planning your New Year's resolution is to have a winner's mindset. Don't give up!
As you embark on your health and fitness journey, there is no option to fail, simply because choosing to prioritize your wellness is a success in itself. Any time, effort, or reflection that you pour into your goal brings you one step closer to a healthier you.