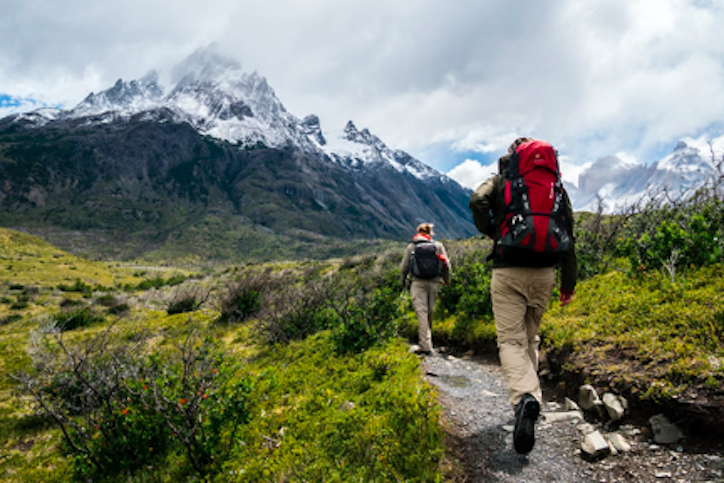 One of the best ways to view this beautiful nation is on foot. America's natural wonders offer hikers countless options — there's something for everyone. The list below divides the country by region to present the best trails in each section of the country. No matter where you find yourself, this list of the 20 best hiking trails in the US has got you covered.
Northeast
Watkins Glen State Park, NY
Wind your way behind waterfalls and through the dramatic gorge on this 2.4-mile loop, one of the best places to hike on the East coast. The trail is narrow and a bit slippery, so wear shoes with good tread.
Watkins Glen State Park offers up some luxurious park accommodations. Its 305 campsites offer restrooms and hot showers, and you can cool off in the Olympic-sized pool after your hike.
Length: 2.4 miles
Best for: Moderately active individuals
Lums Pond State Park, DE
A gorgeous walk around Delaware's largest millpond, the Swamp Forest Trail is perfect for those who want a sufficiently long hike, but aren't up to scrambling over rocks and up mountains.
In addition to picnic and camping facilities, Lums Pond offers a ziplining course for any adventurous folks left unsatisfied by the milder walk.
Length: 6.4 miles
Best for: Active individuals
Acadia National Park, ME
Acadia offers both more and less strenuous options, but most agree that the North Ridge Trail offers the best views. There are also plenty of camping and picnic options.
You'll look out over Bar Harbor Bay and Maine's tiny islands as you walk the final half of this trail, which gets a little challenging near the end.
Length: 4.0 miles
Best for: Moderately active individuals
Baxter State Park, ME
There are many ways you can explore the northern end of the Appalachian Trail, such as Maine's Mount Katahdin. But, those looking for an extreme challenge need to go straight to the Knife Edge Trail, one of the best day hikes in the US.
The 1.1-mile rock scramble will test both your balance and courage. You'll need to hike your way there and back as well. Baxter State Park offers limited camping options through the summer, up until October 22nd.
Length: 1.1 miles (+ 7-8 miles to get there and back)
Best for: Extreme hikers and athletes
Southeast
Mount Mitchell State Park, NC
Not for the first-time hiker, this twelve-mile round trip will take you to the top of Mount Mitchell and back. Expect a full day's journey, the occasional obstacle, and the kind of dramatic views only available from the highest peak east of the Mississippi.
The state park offers flush toilets as well as camping and picnic facilities. There are also a variety of less strenuous hikes for those not ready to commit to Mount Mitchell's ascent.
Length: 12 miles
Best for: Serious hikers/athletes
Cloudland Canyon State Park, GA
This steep and challenging trail will take you to Cloudland Canyon's two waterfalls, the 60-foot Cherokee Falls and the 90-foot Hemlock Falls.
In addition to hiking, Cloudland Canyon offers mountain biking and horseback trails, disc golf, and a fishing pond. Its picnic and camping options are extensive. The latter includes multiple cottages and yurts as well as a group lodge.
Length: 2.1 miles
Best for: Active individuals
3. Cape Florida Nature Trail
Bill Baggs State Park, FL
Cape Florida is often ranked in the top ten beaches across the nation, and even non-beach bums can appreciate the beautiful walk through the mangrove wetlands to the historic 1825 lighthouse.
The easy walk even offers up picturesque views of Key Biscayne's Stiltsville, a community of fishing shacks erected on top of stilts. There are plenty of picnic sites but no camping options — unless you have a boat.
Length: 1.5 miles
Best for: Everyone
4. Old Rag Mountain
Shenandoah National Park, VA
This most popular — and dangerous — of the Shenandoah trails offers more than nine miles of challenging terrain, including a rocky scramble. The panoramic views are spectacular, and Shenandoah offers multiple lodging options throughout its 200,000 acres as well as fully accessible restrooms at designated areas.
Length: 9.1 miles
Best for: Serious hikers/athletes
Midwest
Pictured Rocks National Lakeshore, MI
For those craving a more picturesque atmosphere than a strenuous activity or those traveling with kids, this easy journey comes complete with a working lighthouse and shipwreck remains. There are camping and picnic opportunities aplenty.
Length: 3 miles
Best for: Everyone
Ozark Trail, MO
The 35-mile Ozark Trail offers plenty of day hikes, made accessible thanks to a handy shuttle service that will drop you off at one point and pick you up at another. Bell Mountain's views are worth the climb, but if you'd prefer an easier hike or a multi-day backpacking trip, the website's trip planner makes it easy to customize your experience.
Length: 8 miles
Best for: Active individuals
Cahokia Mounds, IL
The Cahokia Mounds is the largest set of remains of pre-Columbian civilization north of Mexico. It's perfect for hikers who want to learn about some of our continent's most obscure and fascinating history while they take in all that nature has to offer.
Whether you choose a guided tour or prefer to make your own way, you'll learn as you walk. You can choose the ten-mile option or just hit the highlights with a shorter six-mile hike. There are nearby accommodations and campgrounds.
Length: 6.2-10 miles
Best for: Moderately active individuals
Boundary Waters Canoe Area Wilderness, MN
The Boundary Waters may be known as a canoeing destination, but there are plenty of land trails as well. The most popular is Eagle Mountain. The two campsites along the way make it easy to break up the trail for anyone not up to the seven-mile there-and-back trip in a single day.
Length: 7.2 miles
Best for: Moderately active individuals (if doing it in one day)
Southwest
Grand Canyon National Park, AZ
No trail list would be complete without at least one of the Grand Canyon's two Rim Trails. To allow different experiences and levels of difficulty, shuttle buses make your journey across part or all of the 13-mile trail customizable. Parts of it are paved and even wheelchair accessible, and there are bathrooms along the route.
Length: 13 miles (in full)
Best for: Everyone
Bryce Canyon National Park, UT
Bryce Canyon has the largest collection of hoodoos — oddly shaped pillars of rock created by erosion — in the world. The round-trip trail is 11 miles, but hikers can choose to hike only a portion of it. The half-mile section from Sunset Point to Sunrise Point is paved and wheelchair accessible.
Length: 11 miles (in full)
Best for: Everyone
Red Rock Canyon, NV
Red Rock Canyon offers all levels of hikes, but this challenging six-mile trek gives you the best look at some bighorn sheep. Those looking for less strenuous activity should consider the Petroglyph Wall Trail nearby. There is only one developed campground with vault toilets and drinking water available.
Length: 6 miles
Best for: Active individuals
Zion National Park, UT
Known for its sandstone cliffs and sparkling waterfalls, Zion National Park is best seen at sunrise or sunset for maximum dramatic effect. The more challenging Upper Emerald Pool Trail will give you the best view, but the Middle and Lower Trails are still extraordinary and more easily traversed. Beautiful campgrounds are available, or you could treat yourself to a night at the Ponderosa Ranch Resort.
Length: 3.2 miles
Best for: Moderately active individuals
West
Yosemite National Park, CA
A shuttle will take you to Yosemite's most famous — and sometimes infamous — day hike, a trail that includes a final 400 feet climb up the summit using cables. After you've gasped your way to the top, you'll still have the journey back to contend with. You can choose your level of luxury for the recovery, since the park offers everything from simple campgrounds to the Ahwahnee luxury hotel.
Length: 14-16 miles
Best for: Serious hikers/athletes
Glacier National Park, MT
There are many trails along the Many Glacier in Glacier National Park, each bringing you their own virtues and opportunities to view the park's extensive wildlife. One thing that makes Grinnell Glacier Trail so appealing is the ability to customize your experience.
You can either hike the 10.6 miles in full or take a scenic boat ride to shave your hike down to a still demanding 7.2 miles. Be sure to make a reservation if you choose the latter. The park offers pit toilets and backcountry campgrounds as well as more luxurious hotel and motor inn options.
Length: 7.2-10.6 miles
Best for: Active individuals to serious athletes
Prairie Creek Redwoods State Park, CA
This gentle walk will take you into Jurassic Park territory — the canyon was used as a backdrop for the movie. After tackling one of the best hikes on the west coast, feel free to explore the park's 75 miles of hiking trails or its scenic drive and biking options if you still crave more. There are dry campgrounds and cabins for rent if overnighting.
Length: 0.7 miles
Best for: Everyone
4. Mount Ida
Rocky Mountain National Park, CO
The top-ranked hike through the Rockies will take you to the summit of Mount Ida. You'll need to set out from Milner Pass, but take advantage of any of the campgrounds throughout the park for your stay. Be on the lookout for extreme weather! A thunderstorm can make your excursion more adventurous than planned.
Length: 9.6 miles
Best for: Active individuals to serious athletes